We are a participant in the Amazon Services LLC Associates Program, an affiliate advertising program designed to provide a means for us to earn fees by linking to Amazon.com and affiliated sites.
The Brother VC-500w is high quality mini photo & Color label printer that canks out instant stickers & label for home & small businesses.
Brother VC-500w a vibrant full-color label printer is an affordable ($149.99) printer that cranks out the same zero-ink (ZINK) technology that mini photo printers have. Brother VC-500w Color Vinyl Sticker Printer prints labels and stickers in varying widths & lengths up to 17 inches with Brother's robust software. You might find brother vc500w colour label printer somewhat expensive to use, however it's high quality color label printing for varyin applications makes is one of the best color label printer among mini printers in the market. Brother colour label printer vc500w is best choice in new consumer color label printer category to serve both households and small businesses
Pros
Prints best color vinyl stickers & high quality labels in varying size
Supports up to 4 label widths
Awesome printing speed for Brother VC-500W Color Vinyl Sticker printer
Cons
Higher running costs
Not suitable for larger printing labels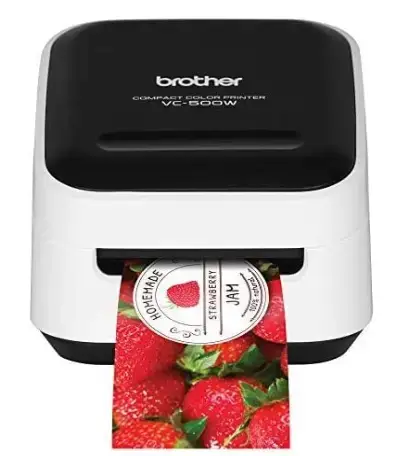 What is the Specification of Brother's VC-500W?
Specification for Brothers' VC-500w
Brand
Brother
Colour
White & Black
Customer Ratings
4.0 out of 5 stars
Size
3.8 x 4.6
weight
1.5 pounds
Label Size VC-500W
The VC-500W is the result of Brother's previous product known as the ZINK hAppy Smart App Prineter & VC-500W is not the first label printer of its kind. The hAppy and VC-500W almost look exactly the same apart form the logo etched on top of the chassis.
The print quality and media costs for VC-500W & today's pocket-size photo printers are comparable, however, VC-500W gets its ZINK-branded paper from rolls rather than pre-cut sheets that are loaded inside the printer.
VC-500W is two-tone with white side and black top measuring 3.8 x 4.6 inches and weighing 1.5 pounds. VC-500W handles most operations via the bundle software, and it cosnists of three buttons for power, wifi and cassette. VC 500w adjusts the paper roll, and Swipe to cut or cutter position.
Attach brother vc500w label rolls at the back side of the device- Refer the image below
You get the printed label as it rolls out via an output slot located at the front of the chassis. brother VC-500W colour label printer lets you cut the labels via a slider that scrolls across the top. Activate it with you fingertip.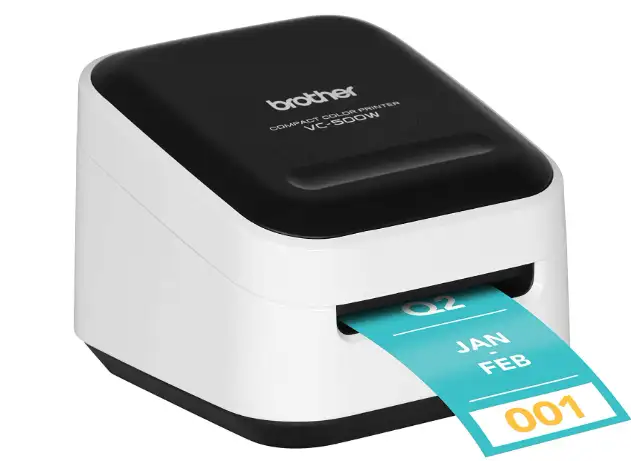 The VC-500W lets you create your labels on your windows, iOS or Android device with Brother's bundled software. The VC-500W also allows you to print label designs via Brother's P-Touch, & supports output from Microsoft Word, Excel and Outlook.
Label Design & Brother VC-500w App
Brother's VC-500W readily designs your labels from Android & iOS devices and a holdover from the ZINK hAppy days, it allows you to make design all types of colorful and dynamic labels a snap.
Brother VC-500w Print Without INK
The Brother vc-500w color label printer uses ZINK Technology that uses zero Ink to deliver rich, vibrant & vivid color photos & prints without needing Ink. The colors needed for photos or prints are of high quality and pre-embeded in the adhesive backed ZINK Paper rolls or Tapes. 
Brother VC500w- Seamless Connection via Wifi 
Brother VC-500w lets you connect seamlessly with Wifi from anywhere or share the network directly from your android, iOS or tablet. You can make labels & print them directly from your smartphone when you connect ot a wireless network. 
Brother VC500w Labels Cost
Four widths are available for ZINK label rolls which are half, three & eighths of 1 & 2 inches with the largest possible label of 2 x 17 inches, it will cost you over $2 that you might find somewhat expensive compared to other media rolls.
VC-500W is a low volume color label printer not meant for printing larger numbers of printing labels each month & that is why relatively becomes costly to use.
Printing Speed & Quality of Brother VC-500w
Brother VC-500w Color Label Printer prints at .03 inch per second (ips) when you use it in standard mode, however in Vivid mode the print speed is 0.15 ips which is great speed & varies slightly depending on content. Both, the standard mode & the Vivid mode print at 313 dots per inch dpi.
While printing the test samples with VC-500W, it printed monochrome labels of 0.5 x3.5 inches in about 3.5 seconds while using the standard mode. The cutting speed about 5 second more for about 12 cut labels per minute. The Vivid mode took twice longer than the standard mode.
Printing full-color labels takes about 3.5 seconds in the standard mode that makes VC-500W faster enough for printing color vinyl stickers, phots & labels and the quality and out put is awesome & worth waiting for.
Speaking of output quality, the photo out put is excellent with exact detail, vibrant, bright and accurate colors without graininess or fade. Photos printed via VC-500W color printer vinyl sticker printer are somewhat same as HP's Sprocket Select optimized quite impressively for the job.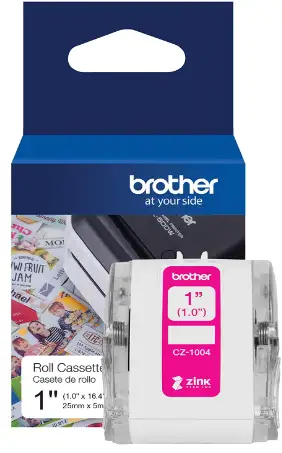 Print Labels with a Touch of Class & Color
Brother VC-500W is a mini gadget meant for low volume labeling tasks. Brother VC-500W color-codes your labels vibrant. Small businesses can use this color label printer's output to label product and shipping boses like professional labels. Brother design and craft label printer VC500W is ideal for homes & offices that are looking for good color coordination for their labels.
How to set up the Brother VC-500W Colour Label Printer?
You can use Brother VC-500W color label printer as soon as you get it out of the box. You can use it for any purpose whether you are making presence, cards, invitations or even something for your home or printing color labels for your business. Here are the steps to set up VC-500w color label printer.
How to set up brother color label printer
Follow these simple steps to set up the device:
How to set up brother color label printer.
1- Unbox the package
2-Next, take out the print roll on which you want to print your label from the available sizes of 9,12, 19, 25 or 50.
3- Remove the plastic cover and insert the roll at the backside of the Brother color label printer.
4- To get started you need to download the Brother Color Label Editor APP from the App store-You can use this app on iOS, Android or tablet or you can use Ptouch Editor Design Software on your PC or MAC.
5-Make sure your device is connected to the wifi
6-Now, Launch the App, Select the printer & press OK
7-Plug your printer in and press Ok again
8-Press the power button on the bottom corner for two seconds & then release it. The light will start to flash on the fron of your printer head & the printer will start.
9-When all the noise is finished, it means the printer is ready to print
10- Press next on the App as we have already loaded the roll cassette, it means we are ready to go
11-To configure the wifi connection, the wifi icon should be solid white on the head of printer, click configure and press next
12-Now leave the App for a moment to display settings on your device
13-In settings select wifi & Brother's VC-500W network to connect to
14-Once connected go back to the settings and press the button that says connect via wifi network-It will ask for authentication & you can enter the password and join the wifi network
15- When you have done that Press Next, The device will display a message of setup complete and will give you a chance to test print
16-If you want you can press yes, If you don't want the test print press NO
17-Now you are in the App design, select the label design and press ok to print
18- The printed label will come from the fron & you can cut it with the help of your finger
19-Brother VC color label Editor app saves all your designs so that you can revisit and re-print whenever you want
20-This device by Brother VC-500w is simple & pleasure to use for your day-to day crafting needs
What are Frequently Asked Questions for Brother VC-Color Label Printer?
What printer is best for making stickers?
Here is the list of best color vinyl sticker printers that are good & affordable for making stickers:
Which Color Sticker Printer is good?
Brother VC500W color sticker printer is good for home or office printing. There is a wide variety of other good printers that print color vinyl stickers in high quality
Latest Posts
Mary Johns is a versatile content creator, renowned for her mastery in blog writing and diverse expertise across various niches. With an unwavering commitment to providing in-depth insights, Mary's blogs offer readers a rich and informative experience, making her a go-to source for knowledge seekers across various subjects.